On April 29 & 30, 2009, Christ Church Cathedral, Houston, TX, hosted a FaithandReason® seminar "The Human Spirit and The Times We Live In." World-renowned contemplatives, Joan Chittister, OSB, and Richard Rohr take us deep within the human spirit to show us that quest for spiritual life leads us unavoidably into our deep connection to all life and all people. We find there new eyes to see and new ears to hear. At the depths, we wake up to the realities of all human experience and discover that we cannot turn our backs on any suffering, any oppression or any injustice. To nurture the human spirit is to discover that we live in a sea of human connectedness.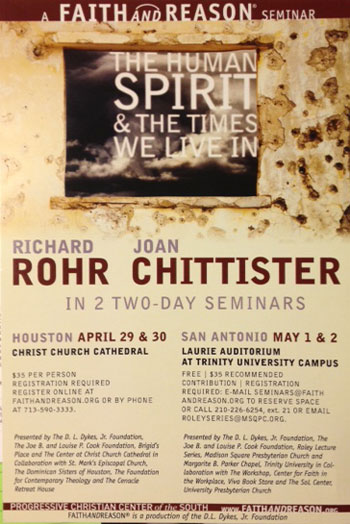 April 29-30, 2009
Houston, TX
Presented by
Support our Seminars
Our upcoming seminar in Houston is our biggest yet, taking place with several speakers across multiple days and venues. If you can't attend, please consider a donation to help us with the speaker fees, event logistics, and other costs to bring the progressive spiritual message to audiences.