In the FaithandReason® seminar,The First Christmas,hosted by All Saints' Episcopal Church in Atlanta, GA, December 12 & 13, 2008, renowned Jesus scholars, Marcus J. Borg and John Dominic Crossan, joined forces to show how history has biased our reading of the nativity story as it appears in the gospels of Matthew and Luke. They explore the beginning of the life of Christ, peeling away the sentimentalism that has built up over the last two thousand years around this most well known of all stories to reveal the truth of what the gospels actually say. Borg and Crossan helped us to see this well-known narrative afresh by answering the question, "What do these stories mean?" in the context of both the first century and the twenty-first century.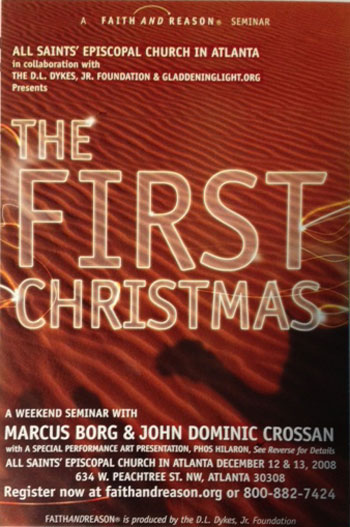 December 12-13, 2008
Atlanta, GA
Presented by
Support our Seminars
Our upcoming seminar in Houston is our biggest yet, taking place with several speakers across multiple days and venues. If you can't attend, please consider a donation to help us with the speaker fees, event logistics, and other costs to bring the progressive spiritual message to audiences.