Highly acclaimed and popular New Testament scholar, Amy-Jill Levine of Vanderbilt University was the keynote speaker for a one-day seminar, JESUS, JUDAISM AND JEWISH-CHRISTIAN RELATIONS at Ruth Taylor Recital Hall on the Trinity University campus, Austin, TX, Saturday, October 13, 2012. Dr. Levine also made a brief presentation on Friday night, October 12, 2012 at Temple Beth El. Sponsoring partners included The Workshop-SA, The D. L. Dykes, Jr. Foundation, Trinity University, Temple Beth El, St. Mark's Episcopal Church, Oblate School of Theology, Episcopal Church of Reconciliation, SoL Center at University Presbyterian Church and Seminary of the Southwest, Austin.Amy-Jill Levine describes herself as a "Yankee Jewish feminist who teaches in a predominantly Christian divinity school in the buckle of the Bible Belt, (Vanderbilt/Nashville)." She is a widely respected New Testament scholar who is noted for combining historical-rigor,literary-critical sensitivity, and a frequent dash of humor with a commitment to eliminating anti-Jewish, sexist, and homophobic theologies.Dr. Levine is University Professor of New Testament and Jewish Studies, E. Rhodes and Leona B. Carpenter Professor of New Testament Studies, and Professor of Jewish Studies at Vanderbilt University Divinity School and College of Arts and Sciences.Topics of Dr. Levine's three lectures included, "Jesus, Judaism& Jewish-Christian Relations," "How Jews and Christians Read Scripture Differently," and "Hearing The Parables Through Jewish Ears." Q&A discussion sessions followed the second and third lectures.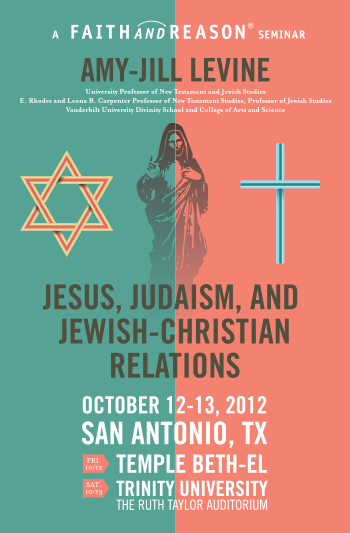 October 12 - 13, 2012
Austin, TX
Presented by
Support our Seminars
Our upcoming seminar in Houston is our biggest yet, taking place with several speakers across multiple days and venues. If you can't attend, please consider a donation to help us with the speaker fees, event logistics, and other costs to bring the progressive spiritual message to audiences.