​Sr. Joan Chittister articulates with profound clarity and power what women have suffered at the hands of patriarchal systems down through history. In this two-day seminar held at St. James Episcopal Church in Baton Rouge, LA, November 11 - 12, 2011, Sr. Joan describes in startlingly well-documented descriptions, the ways women around the world today are the acute victims of the greatest ills of modern nations and societies. Her task is not just to paint the grisly scenes of starvation and brutalization of women in the 21st century; her purpose is bigger. Her passion is that we all see, women and men alike, that the social, ethical and personal pathologies that diminish and dehumanize people everywhere are continually fed by the system of failure of our religious' and our societies' refusal to lift women into balanced partnership with their male counterparts. Sr. Joan's lectures included "The New Violence & It's Unexpected Victims," "Overcoming the Obstacles & Advancing the Cause of Humanity," and "What Does God Really Want?"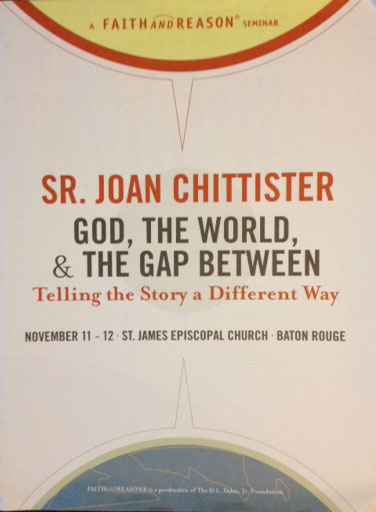 November 11 - 12, 2011
Baton Rouge, LA
Presented by
Support our Seminars
Our upcoming seminar in Houston is our biggest yet, taking place with several speakers across multiple days and venues. If you can't attend, please consider a donation to help us with the speaker fees, event logistics, and other costs to bring the progressive spiritual message to audiences.